Title: Unlocking the Doctor's Heart
Author: Liam Livings
Publisher: NineStar Press
Release Date: January 21, 2019
Heat Level: 3 - Some Sex
Pairing: Male/Male
Length: 50800
Genre: Contemporary, LGBT, Doctor, nurse, contemporary, friends to lovers, child illness, gay
Synopsis
Headstrong nurse Davie Penrose has moved to London from a small village in Cornwall to start work in the children's transplant ward. He left to progress his career, but also to escape the painful memories of his ex-boyfriend, a workaholic doctor.
Ambitious Doctor Leo Westbury is in charge of a ward for now, but he has plans to be a medical director soon. Making use of his charm and avoiding commitment due to a painful past, he enjoys temporary relationships with male student nurses.
Clashing over a request to look around the ward before he starts work, Davie thinks Leo pompous, while Leo finds Davie bossy. Becoming friends over a shared passion for helping children on their transplant wards, they get closer through the inevitable ups and downs of caring for sick children. Physical attraction pulls them together; their pasts push them apart.
Both damaged and hurt in different ways, they might just find their happy ever after together.
Excerpt
Unlocking the Doctor's Heart
"Davie Penrose, senior staff nurse on Twinkle Ward, starting on Monday," he said into the phone speaker at the ward's entrance.
"Sorry, can't let you in. No ID, no entry."
"I've got this letter." Davie held the letter to the camera.
"Not the same as a photo ID. They'll get that sorted for you on Monday."
"I only wanted to have a look around, see the lay of the land. Where the staff room is, how many beds, that sort of thing." Davie bit his lip, starting to wish he'd not listened to his friend persuading him to apply for the job in the first place.
"Go on, stretch your wings. You don't want to be stuck in Cornwall forever do you?" Davie's friend had said.
Now, that sounded like quite a nice place to be stuck. "Couldn't you make an exception, ask another member of staff to walk around with me?" Davie held his room key up to the camera. "I'm in the nurses' accommodation. Room 1004, see?"
After a long sigh, the voice at the end of the speaker went quiet, he was obviously discussing something with another colleague.
A deep, posh, man's voice came onto the speaker. "Now, let's see if I can sort this little mess out." He coughed. "Davie, is it?" Without waiting for a response, he continued, "It's doctor Westbury here. I'm the senior consultant on call this weekend. I do have other pressing matters to deal with rather than policing the ward entrance."
Charming! "It won't take long. If you just look at my paperwork." Davie held the letter to the camera hopefully.
"One thing at a time, please. Let me finish, will you?"
Disappointed, and frustrated enough to be screaming in his head and wondering who'd died and left this doctor in charge, Davie knew it would be pointless to ask him, because technically as the senior consultant on call, he would be in charge. Instead, Davie said, "I have my passport in my pocket too. Proves who I am. Can't you check a list somewhere, or something, or other?"
"As I said, one thing at a time. So, I hear you've got yourself in something of a situation and you'd like us to bend the rules to let you in."
"I don't think it's bending the rules. Not if I can show you who I am and that I have a job offer here even if I've not yet technically started." Puffing himself up a bit, feeling he was on a bit of a roll now, Davie said, "And besides, I only want a quick look around, see the lay of the—"
"Land, yes, I know. Thing is, see that's what some old random would say wanting to get inside and make mischief. Or worse. In fact, last week—" Doctor Westbury paused. "—I'm coming out to meet you. Wait there."
A short while later, after a buzz of the door, Doctor Westbury arrived in a white coat, stethoscope hanging around his neck, brown hair giving the impression he'd just woken. And such deep blue eyes. "Sorry about this, but I can't bend the rules and let you in." He folded his arms across his broad chest and shook his head. "I believe you're starting on Monday, but I can't take a chance. I don't know if you noticed, but this isn't exactly the nicest part of London. Notting Hill it ain't." He laughed and raked his hands through his hair. He coughed and looked Davie up and down.
"If I was a random person wanting to get in, why would I have this letter." Davie waved it theatrically in the air. "And a key to the nurses' accommodation block." Jangling it loudly he stared deep into the doctor's blue eyes. "It's not bending the rules then, is it? Besides." He reached into his pocket and pulled out his passport. "Look, same name on the letter and passport."
"I hear your concerns, but as the consultant in charge it would be on my head were anything to happen as a result of this… infraction shall we say." Carefully checking the passport, letter, and keys he shook his head and tutted loudly. "Seems a bit odd to me, someone wanting to have a look around before starting. Plenty of time for that after you're properly inducted into the trust."
"Can't you use your judgement? I'm sure it must be pretty sound as a consultant." It was do or die, and Davie needed something to bring this bloody doctor out of his fixation on the damned rules.
Holding his head high, the doctor said, "Of course. My clinical judgement is second to none. I have a fantastic record here and received the highest clinical excellence award possible for the last two years."
"Very impressive. Well then." Was it working? Had he taken the bait?
He adjusted his stethoscope around his neck and flattened the collar on his white coat. "I'm thinking. Considering the facts. You." He looked Davie up and down with a smile.
"Rules are rules for a reason. I'm sure they are. I do know. I have worked on children's wards myself. Where everyone has to be police checked and all that. But really, honestly, do I look like a random. Can't you just use some of this amazing judgement and let me in. Please?" Davie smiled.
"You're not going to take no for an answer, are you?"
Davie shook his head. He usually never did, so why start now with this high-handed doctor? Why did doctors always think they ran the whole hospital if not the whole world? Thinking better than to voice that out loud, he simply held his letter and keys for the doctor to see. Bringing his judgement into the equation may have just worked…. Davie held his breath.
He sighed, raked his hands through his tousled hair and said, "Tell you what. I've looked at the evidence you've presented to me and I'm satisfied you are who you say you are. But you're to stay with me the whole time. No wondering off, all right?"
Davie nodded excitedly. He'd done it! He'd won! One nil to Davie!
Entering the code into the keypad, the door opened, and the doctor opened the door. "After you."
Now, that's a surprise, Davie thought, expecting the doctor to be something of a me-first-damn-everyone-else man.
Following Davie through the door, the doctor said, "Now, let's see if we can't give you a quick tour. I'll take the flack if I don't see you back here Monday morning." He flashed Davie a smile, and butterflies began to stir in Davie's stomach.
Purchase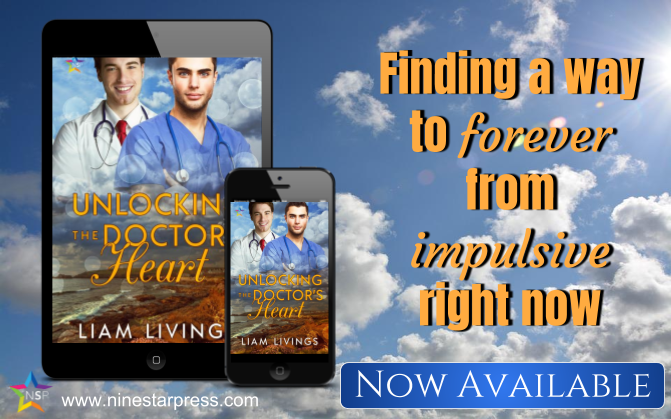 Meet the Author
Liam Livings lives where east London ends and becomes Essex. He shares his house with his boyfriend and cat. He enjoys baking, cooking, classic cars and socialising with friends. He has a sweet tooth for food and entertainment: loving to escape from real life with a romantic book; enjoying a good cry at a sad, funny and camp film; and listening to musical cheesy pop from the eighties to now. He tirelessly watches an awful lot of Gilmore Girls in the name of writing 'research'. Published since 2013 by a variety of British and American presses, his gay romance and gay fiction focuses on friendships, British humour, romance with plenty of sparkle. He's a member of the Romantic Novelists' Association, and the Chartered Institute of Marketing. With a masters in creative writing from Kingston University, he teaches writing workshops with his partner in sarcasm and humour, Virginia Heath as www.realpeoplewritebooks.com and has also ghost written a client's 5 Star reviewed autobiography.
Giveaway
a Rafflecopter giveaway