Title: Foreign to You
Author: Jeremy Martin
Publisher: NineStar Press
Release Date: February 11, 2019
Heat Level: 1 - No Sex
Pairing: Male/Male
Length: 83900
Genre: Fantasy, LGBT, Young adult, fantasy, shifters, hunter, stag, forest, reincarnation
Synopsis
The harmony between humans and fianna, a species of shapeshifting deer, begins to wither as racial tensions and deeply rooted resentment turns violent.
Ruthless hunter Finn Hail and prophesied liberator Adelaide may be heroes to their own species, but they are enemies to each other. With war on the horizon, the reluctant pair must team up to find the most elusive of prey: the god of the Forest.
As enemies press in from all sides, true intentions begin to show. For Finn to save the boy he cares for most, he might need to aim his gun at the very god he seeks. And Adelaide, with her festering hatred for mankind, will have to determine if peace holds true salvation for her people.
Excerpt
It is strange to sit in the Forest with a rifle, bullets, and the intention to kill. The Forest is meant to be a place of harmony, where the order of things is meticulous, spontaneous, and beautiful.
I am a blemish in an otherwise blissful system.
My only justification for upsetting said balance is that I am here, with a gun, to silence another disturbance.
"To the right," Jay whispers, his words turning into clouds similar to a furnace expelling smoke. His voice is so soft the branches seem to lean downward greedily, as if the leaves could catch each of his words like raindrops. With the meek backdrop of the Forest, Jay's features are highlighted and prominent. His sturdy jaw, light stubble, and bright eyes were all a combination of classic handsome.
I, on the other hand, am classically average. Brown hair, dull eyes, and a nose that's a little too big.
After waiting in the same spot an unholy amount of time, my body had sunk deeper in Pa's musky leather jacket while my muscles and thoughts had stiffened from neglect. The slightest stirring from Jay startles me out of my daydreaming and from my cocoon of warmth. Unlike me in the present moment, Jay's attention and energy are crisp and alert while his entire body leans forward in anticipation.
"Do you see him?" Jay murmurs with thinly veiled anxiety. He scrambles for his rifle with shaky fingers, brings the scope up to gaze through. I blame the cold, or my own fleeting concentration, but I cannot see what he does. The only abnormalities I see in the surrounding Forest are the slabs of meat Jay strung up on the branches like decorations to attract the ferals.
With a huff of frustration, he angles my line of sight with his rough fingers, squishing my cheeks, and gripping my head. Within an instant of the contact of his skin on mine, my mind sharpens.
Allowing my gaze to soften so I can absorb more of my surroundings, I finally see the tiniest of movements. A flash of white that doesn't belong to the never-ending bark. A drifting smudge in the sea of stillness. Yet, the Forest is so dense the leaves tend to bunch together like armor, protecting its inhabitants from invaders. Between one blink and the next, the Forest returns to its previous state. Not a twig out of place. Nothing exposed.
"Found ya," Jay says, his voice trembling. I study his nervous movements. Gloved fingers twitching individually. Teeth tugging at his bottom lip. Chest barely rising and falling as he forgets to breathe. For he has the skills of a great hunter, but not the heart for it. Jay was the boy who once found a rabbit with a broken leg and attempted to nurse it back to health. He was the same boy that cried for four days after his father snapped the creature's neck to put it out of its misery.
I'm not good at vocalizing emotions, making them into pretty little words, which is a genetic trait from Pa. All I can tell Jay is, "Stay calm," and that doesn't sound like near enough. I wish I could tell him that we should head back to town, that he deserved much more than loud rifles and dirt.
But I don't say those things.
I move past him, my boots squishing in the mixture of mud and snow. Each step is heavier than it needs to be, and my impatience starts to hum within my ears with each squish, squish. As I stalk, I strain to find the distortion of the brown that slipped away.
"It was probably a raccoon," I tell Jay, despite knowing we are meant to be silent. Loud hunters gain no prizes. "I bet you got caught—"
A snort comes from my right, and as I turn, I find a beast stationed between two oak trees.
Its massive frame looms before me with red-rimmed eyes, thick and building black veins, patchy fur, and teeth bared. My eyes soak up every inch of the deer, my heart hammering in time with his exhales. From this distance, the beast is nearly magnificent, practically the size of a horse. His nostrils flare as he paws at the ground, catching all wayward smells while each muscle twitches and throbs. Unlike his cousins, this stag does not flee at the sight of a human. Instead, he lowers his brow defiantly, his antlers posed daggers.
It is an unholy combination of god and devil.
A loud crack fires off behind me, and before I can even blink, the bark of the nearest oak shatters into a thousand shards.
With fear leading it, the stag rears back onto his hind legs and lashes out with hooves strong enough to break bones. I attempt to leap backward, but my boots do not leave the mud willingly. As I fall onto the ground, my rifle skids across the Forest floor. I scramble for the dagger stored at my hip, but my gloves make the hilt as slick as a trout. As the stag brings down the weight of its body with an aggravated snort, I roll to my side so that the hooves bury themselves into muck, not flesh. I manage to free my knife and drag it across the beast's torso before I make a dash for safety.
The buck, alarmed by the sudden pain, moves his eyes frantically, rolling them around his skull and exposing the whites. Its scream, a noise rivaling that of a horn being blown, attacks me even from a distance.
Another gunshot fires off too close, missing once more. As mud rains down from the misfire, the stag flees, taking blood and the stench of rot with it deep into the lush green.
Crawling out from the bush I dove into, I can hear Jay abandoning his usual stealth to reach me. His right boot slips in the slush as he nears me, causing him to crash down beside me. "Shit, Finn. Are you okay?" His hand creeps near my knee before stopping inches from it. "I thought—"
"What even was that?" I snap, pointing at the crude hole in the ground. Instantly, Jay's cheeks flare red, his face hardening defensively. "You were aiming for it, right?" Jay is deadly silent. I work my jaw, hoping to alleviate the ringing still echoing in my eardrums.
Jay curls his fingers into fists. "Next time would you rather I let you go? You seemed to be handling it well," he bites back with sarcasm.
At the lodge, Jay will find any reason not to pick up a gun. Instead, he studies the plants, tinkers with complex traps, and vanishes like a frightened barn cat at the sound of a rifle exploding. I shouldn't be surprised he's an awful shot, considering his lack of practice.
"Well, I'm alive," I tell him, wanting more than anything to be on the move again, and to distance myself from the anger that quickly rose to the top. "But maybe leave the guns to me?"
After a quick smile, Jay squares his shoulders and flexes his hands as the facade of a hunter starts to settle back over him. As the best parts of him get stuffed away. "I'll find him again," he promises, and I have no doubt that he will. It's often teased that Jay has a nose more acute than a hound. He carries a rifle for formalities, but his talents lie within his knowledge of the land. Animal droppings, tracks, and broken twigs are all parts of Jay's trade. It's what makes him valuable to a band of killers. "We are losing daylight," he points out. "And we're approaching Falling Rock."
Are we that far out? I think, dazed. With Jay, time isn't something I usually keep up on. When we were young, I would battle fatigue for one more hour with him.
I scratch at my neckline where sweat starts to bead. "Well, I left you a blood trail, so my portion of help is exhausted." I let the edges of my lips rise, and Jay accepts it with a nod. This is how comrades treat one another.
Jay rises, body hunched close to the ground as he follows the red through the bushes.
Once upon a time, back when it became evident a gun only felt natural in one of our grips, Jay tried teaching me the art of tracking, taking great pride in his skill. But at that age, when I was young and full of pride, I pretended it didn't interest me. Eventually, after I'd declined his guiding hand enough many times, Jay stopped trying to explain his methods to me.
Today, Jay is further removed, his words shorter than usual. The same tension sparking between us with the simplest of blunders, or the slightest of nods, because this is the first time Jay is tracking a feral.
The first time I have been tasked with killing a feral.
This feral is a rarity. The majority of the ferals stay in the Forest, killing what crosses their paths. Yet, this particular beast had entered human territory, killing a farmer and his wife before peeling back into the trees. It makes our mission important. It is more than just killing.
After a rough mile of trekking over minor cliffs and rocky outposts, Jay brings me to a halt with a snap of his wrist. As he shrinks down, I mimic him. Pointing at the snow, he shows me a large divot in the otherwise perfect layer of white. I don't need to be a tracker to know the buck must have slipped on ice, crashing into the remaining snow and splashing against the fluff like a sponge full of red paint.
I pop two bullets into my rifle, check the safety, and snap the chambers shut. Slinging the gun onto my back, I notice that Jay's eyes barely leave the blood, lost in the color. Doubt is starting to build upon his shoulders, gnawing at his edges.
"Are you ready?" I ask. He doesn't know it, but the same uneasiness lines my stomach.
"We've come this far," he tells me. He takes a bold step forward, and I can do nothing but follow. Despite the ground dropping away into a steep slope, it is clear the feral struggled up the side of the mountain.
Jay begins climbing first, taking fistfuls of roots and rocks, to propel himself along. As we move, the blood remains consistent on our right. Before long, Jay crawls over the top of the outpost, disappearing for a moment before reappearing to hoist me up. Once we are on even ground, I want to thank him, crack a joke, or anything, but my words are swallowed up as I look over Jay's shoulder and across the plateau.
I follow red snow until I find the once four-legged stag wobbling on two legs, erect for a breath before plummeting onto his knees. There is blood all over his body, tainting his skin like a rampant infection. Even from here, I can see his muscles quivering and shaking, his body burning off the gentle flakes that land on his shoulders.
His frail human shoulders.
Every part of him seems at war as he spasms and writhes. Despite the fur drifting off his body in decaying clumps, his antlers still hang from his brow, holding steady in the air with crimson stains along the tines.
I snap my rifle in front of me.
When the stag turns to me, he tries to raise his hands. Hands that should be human but are jagged and blackened. A droplet of blood creeps from his eye and down his cheek and drips onto his bare leg.
It is clear he is suffering, caught between two bodies.
I hear him mumbling, but I can't make out the individual words. Despite my head screaming, don't get any closer, you idiot, I find my boots propelling me forward. As I near the fiend, his voice breaks like a young boy in puberty. "Begin again," he raves. "Begin again, begin again—" he lets out a tangle of screams, his claws tearing into his cheeks. "Pain, pain, rebirth."
"Finn," Jay says, grabbing my shoulder with his giant hands, startling me from my daze. "It might not be too late. We might be able to help him."
"He is sick," I say. I stare at a point behind the beast, letting my words flood me with false confidence. "He is just an animal." It is Pa logic. Town logic.
"Wait, Finn," Jay pleads. None of the other hunters would hesitate to kill the feral, I want to tell him. Not after the feral's hands were stained with blood. Blood from Norsewood.
"It's too late for that," I tell him sternly. "He has already done enough damage."
Jay looks away, squinting into the distance. "Something doesn't feel right."
Killing never feels right, I want to tell him. But in the seconds I take my eyes off him, the feral lunges at me, fangs angled at my throat.
Purchase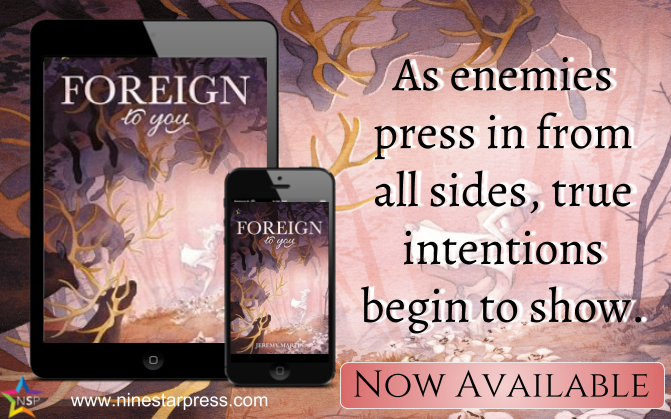 Meet the Author
Jeremy Martin, born and raised in Lancaster County Pennsylvania, considers himself to be a part-time writer and a full-time mess. If he isn't nose-deep in a book, he's obsessively playing video games, re-watching The Office for the umpteenth time, or lost in nature. Foreign to You is his debut novel.
Giveaway
a Rafflecopter giveaway