Title: Saving Rafe
Series: Lords of Discord #2
Author: Jocelynn Drake
Publisher: Indie
Release Date: March 6, 2020
Heat Level: 3 - Some Sex
Pairing: Male/Male
Length: 105000
Genre: Romance, paranormal romance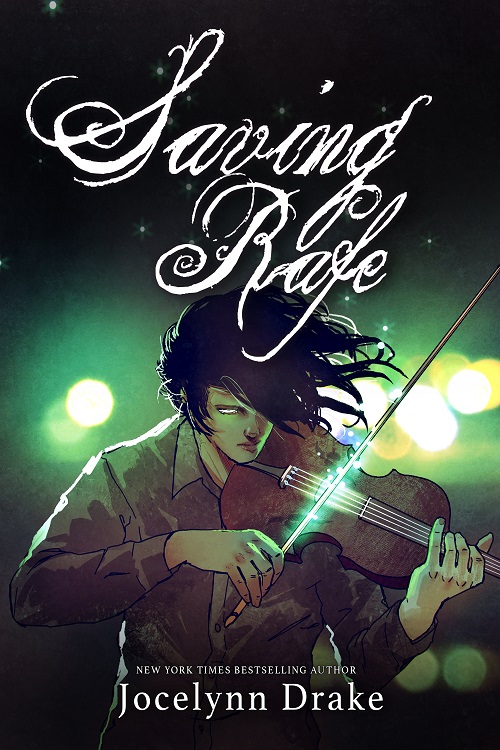 Synopsis
The troublemaker. The risk taker. The sexy club owner full of wicked promises.
Rafe has devoted his immortal existence to pleasure and causing mischief.
The only ones who can depend on him are his brothers. Of course, that's very much a Varik thing.
But when the leader of the Arsenault clan specifically requests Rafe's help in tracking down a killer, he can't say no.
Sure, Rafe claims he's doing it for his family. They've attracted too many enemies and could use a few allies.
That's not the whole truth, though.
There's something about Philippe Arsenault that draws Rafe in. He wants more of Philippe. The vampire leaves him longing for another second in his presence, another taste of his lips, another caress of those perfect fingers.
Yet when it's all over, what will become of Philippe and Rafe? Because Philippe will always be an Arsenault, and Rafe will always be a Varik.
Saving Rafe is the second book in an MM paranormal romance series that has vampires, betrayal, annoying brothers, music, heartbreak, hope, sexy times, and a pair of star-crossed lovers.
Excerpt
From their first meeting at The Gallery, Philippe found himself drawn to Rafe. Everything about the vampire whispered temptation. Philippe longed to pin Rafe to the nearest flat surface and make the most delicious moans rise from those lush parted lips. But more than feeding and fucking, Rafe whispered of escape and freedom. No more worry and responsibility beating him down. With Rafe, Philippe would be able to run free and laugh, enjoy the long life he'd been cursed with.
Jullien had warned him that Rafe didn't seem to be appearing at his club as much as he had in the past, but Philippe wasn't worried. Lola had spotted the Arsenault pair from where she was leaning against the bar. If she hadn't called Rafe already to alert him that the clan leader was at his club, she would shortly.
No. There was no need. Rafe was already there.
The vampire was in the middle of the dance floor, surrounded by a throng of men and women as they moved to the pounding beat of the music. A slender blonde pressed tightly to his front, her long arms wrapped around Rafe's neck, while a muscular man in a shirt that looked as if it was a second skin was pressed against Rafe's back.
Reaching behind him, Rafe grabbed a handful of the dancer's hair and held him in place as Rafe ravaged his mouth. Even through the writhing crowd of bodies, Philippe could see the man's left hand tighten on the vampire.
Blood shot straight to Philippe's dick as he regarded the blatant display of sex and power. His fangs ached to slide down, but Philippe couldn't figure out if he wanted to join the sexy threesome or if he wished to shove both humans away so he could claim Rafe for himself. Neither of them was a healthy thought or would help his clan, so he shoved away the flicker of hunger.
As if he knew what was flitting through Philippe's brain, Rafe released his companion and looked directly at Philippe, a wicked grin growing on his glistening lips. There was the faintest glow in his sharp blue eyes. It could be blamed on the flashing lights, but Philippe recognized it for what it was. Hunger. Sharp, sexual hunger.
Philippe's breath caught in his throat and his fucking dick gave another begging throb, urging him to cross the damn club and grab Rafe, but he kept his feet planted as if they'd been bolted to the floor.
The look passed in just a second; then Rafe was turning to both people cuddled against him. He said something to each in their ears before extricating himself and making his way across the club toward Philippe.
"Oh, he's here already," Jullien murmured behind him as if he'd just spotted Rafe.
Philippe gave a curt nod, not trusting himself to speak yet. He wanted to reach down and adjust himself in his slacks, but he was afraid of Rafe catching the movement as he got closer. Philippe kept his eyes on Rafe as he smiled and laughed, kissing cheeks of familiar patrons while he slowly made his way through the crowd. Halfway to Philippe, a vampire he didn't recognize whispered in Rafe's ear while handing him a drink. Rafe's smile shrank a millimeter as he accepted the glass.
And those electric-blue eyes were on Philippe as he sipped his dark drink, a wicked smile playing on his lips. God, Philippe was dying to kiss that smile off his lips.
When Rafe was standing in front of him, the club owner took a deep breath as if he was scenting the air. Philippe couldn't guess what he smelled, but he carefully schooled his face, giving away nothing but mild amusement.
"You've finally made your way into my little den of sin," Rafe said with a laugh.
"I've heard so much about it, Mr. Varik. I thought I should see it for myself."
Rafe's eyes sparkled with laughter, and he leaned close so he could speak directly into Philippe's ear. Behind him, Jullien stepped forward, bumping Philippe's shoulder. Philippe immediately reached back, pressing a restraining hand to Jullien's stomach. Rafe wasn't threatening him. No, the vampire was playing with him, and there was a part of Philippe dying to play with Rafe.
"Come now, Philippe. We're going to be forming an alliance. We're practically family. I think you can call me Rafe."
For a second, Philippe closed his eyes at Rafe's rough whisper. It was like the vampire was lightly raking his nails across all Philippe's nerve endings, sending the most decadent shiver across his flesh. There was a whiff of blood and alcohol on Rafe's breath, enflaming Philippe's hunger. He had only to turn his head and he'd be able to capture Rafe's sinful mouth in a scorching kiss.
But Philippe didn't let himself move. Didn't flinch a single muscle as he fought his own desires to get to the heart of what Rafe was telling him.
Philippe's eyes snapped open, and he found himself drowning in Rafe's all-too-perceptive blue eyes. "You're going to help me find Piper?"
Something passed over Rafe's face for a second, but Philippe couldn't describe it. It was gone almost as quickly as it appeared, and Rafe was smiling his wicked grin again.
"The Variks are happy to help the Arsenaults," Rafe said, and they were back to the diplomatic comments.
Philippe couldn't quite stop his disappointment from showing. He liked the flirty, playful Rafe more. The one who liked to fan the flames. He didn't seem the "watch the world burn" type, but he didn't mind lighting a few small controlled fires to shake things up.
Purchase book #1 in the series Claiming Marcus
Meet the Author

It started with a battered notebook. Jocelynn Drake wrote her first story when she was 12 years old. It was a retelling of Robin Hood that now included a kickass female who could keep up with all the boys and be more than just a sad little love interest. From there, she explored space, talked to dragons, and fell in love again and again and again.

This former Kentucky girl has moved up, down, and across the US with her patient husband. They've settled near the Rockies…for now. She spends the majority of her time lost in the strong embrace of a good book.

When she's not hammering away at her keyboard or curled up with a book, she can usually be found cuddling with her cat Demona, walking her dog Ace, or flinging curses at the TV while playing a video game. Outside of books, furry babies, and video games, she is completely enamored of Bruce Wayne, Ezio Auditore, travel, tattoos, explosions, and fast cars.

She is the author of the urban fantasy series: The Dark Days series and the Asylum Tales. She also has a gay romantic suspense series called The Exit Strategy and has recently launched a new paranormal series called the Lords of Discord. She has also co-authored with Rinda Elliott the following series: Unbreakable Bonds, Ward Security, and Pineapple Grove. She can be found at www.JocelynnDrake.com.
Giveaway
a Rafflecopter giveaway