Title: All the Way to Shore
Author: CJane Elliott
Narrated by: Tim McKiernan
Publisher: Self-Published
Original Release Date: 11/23/16
Heat Level: 3 - Some Sex
Pairing: Male/Male
Length: 5 hrs and 55 mins
Genre: Romance, Contemporary
Synopsis
What happens when a cruise ship romance crashes on the rocky shores of reality?
Poor-little-rich-boy Jonathan Vallen is the heir to Vallen Industries, but is more interested in music and gardens. He clashes with new CEO Marco Pellegrini, a self-made man and rising star in business, who is brought in to salvage the company. Jonathan gladly leaves Vallen and moves to Cape Cod. When they meet again on an LGBTQ Caribbean cruise, Marco doesn't recognize Jonathan, who has spent a year transforming from an ugly duckling into a very sexy swan. After Marco shows interest and sparks fly, Jonathan reluctantly assumes a false identity, egged on by his cousin Anthony. None of them expect a shipboard fling to deepen into true love.
Back on land, the romance crashes when Marco discovers his perfect man is not only a lie but the son of his boss, Frederick Vallen. Jonathan resolves to win Marco back, but Frederick takes vengeful action. Jonathan and Marco must battle their own fears as well as Frederick's challenge to get to the future that awaits them on the horizon.
Excerpt
The strains of a steel band mingled in the air with the tantalizing aroma of meat on the grill. Jonathan was thinking about getting something to eat when Anthony suddenly clutched his arm.
"Jonny! Over there!" Anthony practically hissed the words as he jerked his head to the right.
"What?" Jonathan took another sip of his sangria, not too concerned. Anthony got worked up about everything.
"I think that's Marco Pellegrini!"
He lifted his head and stared in the direction Anthony indicated. A tall, dark-haired man in glasses stood surveying the crowd next to a younger woman bearing a strong resemblance to him. Both were stunningly good-looking. The man's tousled curls were longer than Jonathan remembered Marco's being. But when the breeze lifted them from his face, his Roman nose and defined cheekbones were unmistakable. So was the amazing body clad in a tank top and shorts ensemble that managed to combine elegance with sexiness. Damn. It was Marco. "On this cruise? I thought he was engaged or something. And straight."
"Guess not. I knew that guy was gay!"
"I think you mean bi." Jonathan's mouth grew dry as Marco squinted in their direction, and the humiliation of their past encounters rose in his mind. "Oh, damn, damn it, Tony. What's he doing here?"
He was about to turn and flee to their stateroom when Anthony said, "He's staring at you, Jonny. I think he likes what he sees. Stop fidgeting! Let's go over and say hi."
"Are you kidding?" Jonathan whispered. "I never want to see that guy again. And he for sure doesn't want to see me!"
"No? Then why's he walking over here? My God, the man is gorgeous! If you don't want him, I get him."
"You—" Jonathan cut himself off because Marco was indeed strolling in their direction, the woman at his side.
Anthony grabbed Jonathan by the arm and all but dragged him closer, then beamed at Marco. "Hello, there!"
While Jonathan tried not to die a thousand deaths, Marco smiled and said, "Hello." He showed no recognition that he'd ever met Jonathan before. What he did show, shockingly, was a rather blatant interest in him, running his eyes up and down Jonathan's body before saying, "I'm Marco." Jonathan had never seen Marco in shorts or a close-fitting tank before and was having a hard time breathing at the sight of his tanned shapely legs and muscled shoulders.
The woman, who had to be his sister or cousin, nodded at them and smiled warmly. "And I'm Sophia. We're also known as the Pellegrini twins, only we're not really twins. Just sister and brother."
Before Jonathan could respond, Anthony jumped in. "Nice to meet you! I'm Andrew Arrington, and this is my cousin, Jonah Rutledge."
Jonathan felt his mouth drop open. Then he gave a weak smile, still poised to flee, sure that Marco was going to recognize him any moment. "Um, hello. Where are you from?" After they got through this fiasco, he planned to kill his cousin.
NOW AVAILABLE on Kindle Unlimited HERE
PURCHASE an Ebook at the preorder price of $1.99 HERE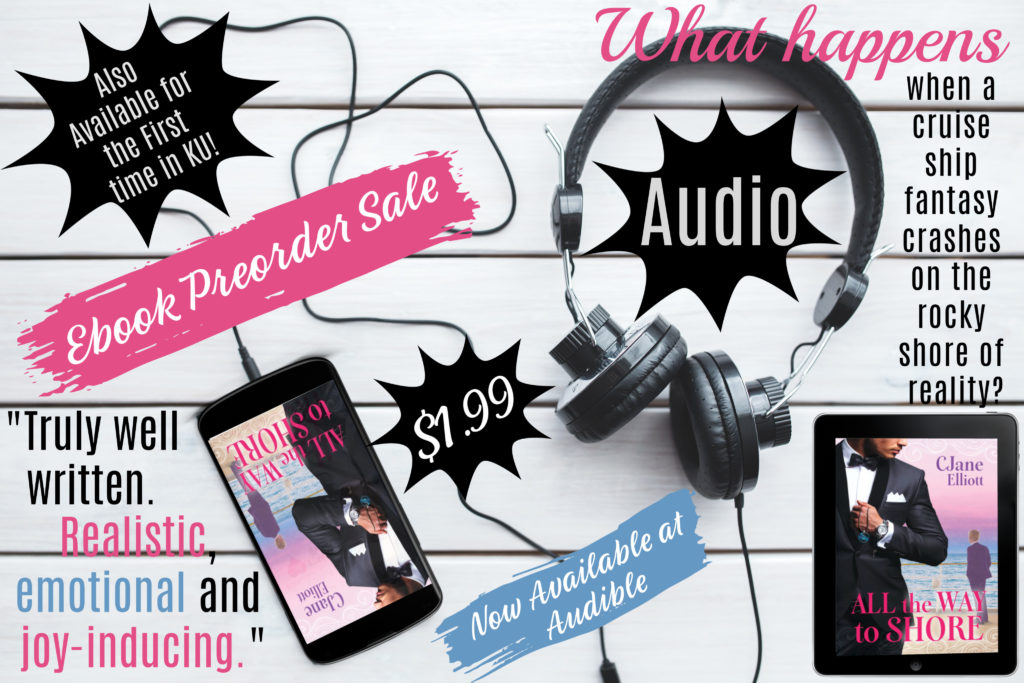 Meet the Author
After years of hearing characters chatting away in her head, CJane Elliott finally decided to put them on paper and hasn't looked back since. A psychotherapist by training, CJane enjoys writing sexy, passionate stories that also explore the human psyche. CJane has traveled all over North America for work and her characters are travelers, too, traveling down into their own depths to find what they need to get to the happy ending.
CJane is an ardent supporter of LGBTQ equality and is particularly fond of coming out stories.
In her spare time, CJane can be found dancing, listening to music, or watching old movies. Her husband and son support her writing habit by staying out of the way when they see her hunched over, staring intensely at her laptop. Be sure to check out CJane's new
Facebook Group!
Giveaway
One lucky winner will receive a $10.00 Amazon Gift Card
a Rafflecopter giveaway