Title: Sorcery of the Blood
Author: Alice G. Holmes
Publisher: NineStar Press
Release Date: May 4, 2020
Heat Level: 1 - No Sex
Pairing: Male/Male
Length: 58100
Genre: Fantasy, LGBTQIA+, Romance, paranormal, gay, interracial, vampires, vampire hunters, dystopia, dark, magic, spells, witchcraft
Synopsis
Kingston St. Louis and Martin Von Brandt are vampire hunters of the highest caliber. That is until Kingston is made a vampire and they discover too late that the city is being taken over by vampires in a bloody coup.
Branded as outlaws, they're forced into hiding with an unexpected ally. For their plan to stop the coup to work, Kingston will have to overcome his prejudices and train the very vampires he used to hunt, and Martin must learn magic.
All the while, they struggle with their feelings for each other. Love can be a weakness, and they can't afford weakness when hiding from a powerful enemy.
Excerpt
Footsteps echoed in the night, signaling the approach of our prey. Martin clung to the alley wall, machete in hand, blue eyes wide behind his glasses. I could see a sheen of sweat on his cheek, and I placed a finger to my lips, reminding him to be silent. He nodded, and I headed to the mouth of the alley. I had a performance to put on. I ruffled my hair, loosened my tie, and did my best to appear inebriated.
Just to add a little extra to the act, I began singing in a slurred voice. I could practically hear the monster's delight as I walked down the alley. Sometimes I wished I knew what the fuck they were thinking. Nothing but blood and murder.
"Are you lost, little boy?" a voice asked in a sickly sweet tone.
I turned. A white woman stood there with long legs and brown hair. She wore a purple pantsuit like she'd finished a late night at an office nearby. There was something wrong with her eyes, just like the rest of them. No depth; her eyes were empty and still. I palmed the stake up my sleeve, making sure she couldn't see it.
"'M not little," I replied, wagging my finger at her. "I'm big where it counts."
"Of course you are," she said, grinning at me. God, she couldn't be this stupid. Then again what did I know? It's not like I knew of any Mensa vampires.
Martin was in position, but I didn't dare look at him for fear of tipping her off. No need to take any risks on a hunt. I staggered up to her, playing up the drunk angle. I could practically hear Martin rolling his eyes. "I am. I can show you. Come back to my place, and I'll prove it."
"Why would I want to do that?" she asked. Her fangs were sliding down as she grinned; she was ready to pounce. "You can show me right here."
I smiled back, standing up straight. "Okay." I shouted, "Now!" And threw myself at her. I grabbed her around the middle and tackled her to the ground. She howled, teeth snapping at my neck. I dodged the fangs and rammed the iron stake into her heart.
She screamed, face contorted in demonic rage. Her fingers had turned into claws, and she was scratching the hell out of my back. I looked up to see Martin standing over us, and he said, "Move." I tore myself away from the creature, and she let out an unearthly howl before Martin cut off her head.
The body went limp, and I got to my feet and said, "Nice work."
"You too," Martin replied. His eyes were still wide, and a tremor went through him. He looked like a kid who was in way over his head. I knew better.
"Fine," he said, his voice squeaking. I raised an eyebrow, and he sighed. "Sorry. I've got a bad feeling is all."
I snorted. "When don't you have a bad feeling?" I went to where I'd hidden my bag at the alley's mouth and took out the lighter fluid. I drenched the corpse in it, making sure to use the entire can.
"I'm serious, Kingston. Something's coming."
"Well, when it gets here, we'll deal with it. Just like this one." I grabbed the book of matches and uttered a quick prayer. Didn't make a difference; we'd already done our work. The ritual was more for my comfort. Martin hated it but he didn't begrudge me. I struck the match and tossed it. The body burned hot, bright, and fast, and was gone in seconds.
Martin handed me the machete after he'd cleaned it off with the edge of his shirt. I tossed the blade in the bag along with the can and the matches. I retrieved the stake and slipped it in my pocket. I slung the bag on my back and headed out of the alley with Martin at my side. I threw an arm around him and said, "You worry too much."
"You should take a break. When's the last time you went out?" When I gestured to our surroundings, he pursed his lips with annoyance. "I mean besides hunting."
"I went to the movies Saturday," I said.
"You tracked a vampire to the movies and killed him after. That doesn't count as going out," Martin said, and I sighed. We walked to the parking garage where we'd stashed the car. I was glad to see there was no attendant around, given the sight of us. The fluorescent lights of the garage rendered my brown skin a sickly shade. If I looked sick, Martin appeared unearthly.
He was so white he glowed under the harsh lights. He had strawberry-blond hair and pale-blue eyes like a husky. I loved the way his hair gleamed in the light, and I wanted to run my hands through it. I jammed my hands into my pockets instead, one curling around the stake. Something solid to hang on to. We found the car, and I pulled out the key fob to unlock it.
"Okay, yes, I've been hunting a lot. But there's more of these fuckers popping up by the minute," I reminded him.
Martin bit his lower lip as I tossed the bag in the trunk, fiddling with one of the beads on his fidget bracelet. It struck me we made an odd pair. He'd opted for jeans, an Ozzy shirt, black thick-framed glasses, and Converse sneakers. I was in one of my old navy suits and brown loafers. Blood soaked our clothes, which was why I was eager to get going before someone spotted us. We got in the car and drove off.
He had curled up in the passenger seat, staring out of the window. Martin still twirling his beads, not saying anything right away. He looked delicate, almost fragile, which was why he was usually the bait. He could lure them in with his boyish charm, and vampires would trip over themselves to get a bite.
They didn't know he was strong, physically and mentally. Or when he set his mind to something, he would get it done. Or that he's the smartest person I'd ever met either in my regular life or my hunting life. Not to mention the most compassionate, which was one of the reasons we'd been arguing so much as of late. I admired his tenacious streak. Not so much when he aimed that tenacity at me.
He was thinking, and I tensed for an argument. I entertained the idea of kissing him to shut him up, something I'd dreamed about but wouldn't do. When we drove onto the 101 loop, Martin said, "We should talk to Tyrone."
"Fuck no!" I snapped, struggling to keep my eyes on the road.
"He can help. He's got his own crew, and we're low on manpower."
"He's a fucking vampire. We can't trust that bloodsucker."
"Yes, we can." Martin's voice strained.
I chanced a look at him and saw Martin clenching his jaw. "Look, just because he switched to donor blood while you two were fucking doesn't mean he's trustworthy. For all we know he's stalking school kids now."
Martin slammed his fist against the dashboard. "He's not like that. Not all vampires are evil."
"Like fuck they aren't!" I shot back. "Do we gotta go over this again? They killed your family. They killed my brother. How are they not evil?" I regretted it the minute I said it, but I wouldn't take it back. Martin balled his hands into fists, shoulders tensing up around his ears.
He growled, "Kingston Patrick St. Louis, that is fucking low."
I didn't expect him to understand. Martin had grown up without his family. He didn't know anything about them except for some pictures in a scrapbook. While their deaths hurt Martin, he had never known them. My brother and I were thick as thieves, and I missed Seph every day.
Purchase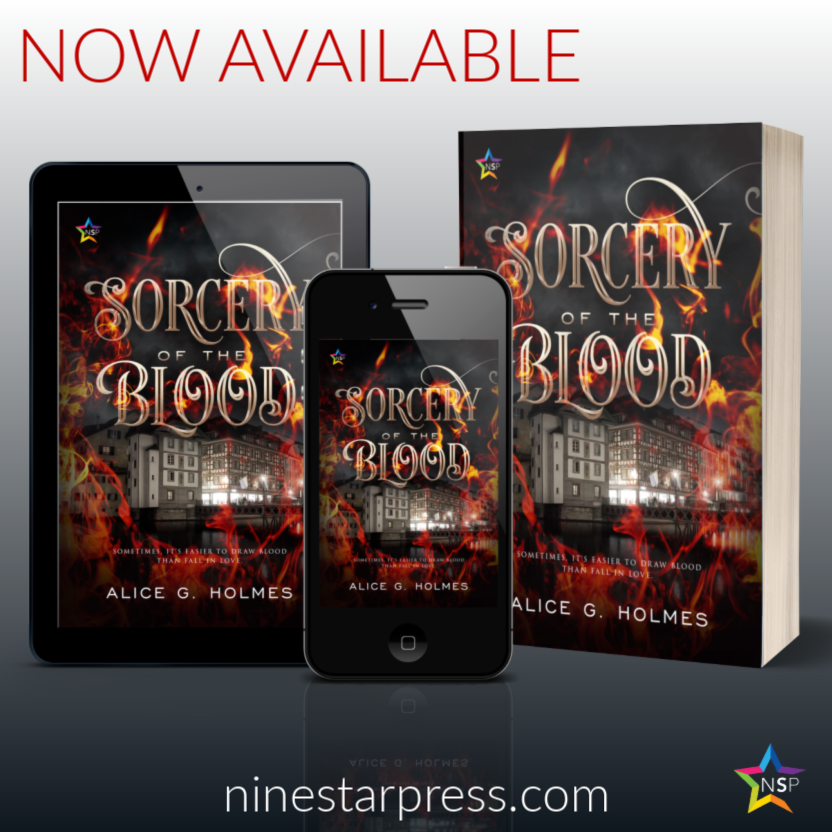 Meet the Author
Alice was born in California in the 80s, which explains so much, really. Before becoming a writer they were in a punk band and also worked as a nurse. In their spare time they enjoy television shows about ghosts and baking as well as a wide spectrum of music. They currently live in Arizona with their collection of Funko Pops and comic book figurines.
Giveaway
a Rafflecopter giveaway