Title: Lighting the Lamp
Series: Sophie Fournier, Book Three
Author: K.R. Collins
Publisher: NineStar Press
Release Date: May 25, 2020
Heat Level: 1 - No Sex
Pairing: Female/Female
Length: 100100
Genre: Contemporary Sports, LGBTQIA+, Contemporary, sports, romance, lesbian, bisexual, demisexual, ice hockey, coach, teammates, slow burn
Synopsis
Entering her third season, Sophie Fournier has almost everything she wants. She's the captain of the Concord Condors, she's roommates and linemates with Elsa Nyberg, the elite Swedish winger she's wanted to play alongside since the Zurich U-Tourney.
There are two major things she's missing, though. She doesn't have her next contract lined up, and she still hasn't won the Maple Cup, hockey's most coveted prize. If she wins the Cup, she'll have leverage going into her contract negotiations. And, in case she needed more motivation, this is Benoit Delacroix's final season as a Concord Condor, and she's determined he won't retire without lifting the Cup.
Excerpt
The 2013 draft in Orlando, Florida marks the third one Sophie's attended. She made history in 2011 when she was the first woman drafted into the North American Hockey League. Last year, she was given the honor of selecting Elsa Nyberg for her team, the Concord Condors.
This year, Sophie's responsibilities are fewer, but she's still here representing the League. Unlike other players, who watch the draft from their couches or receive alerts while on the beach or touring wine country, Sophie is here in a crisp black pantsuit, a red pocket square her only flash of color.
She's here so the Commissioner can lay a heavy hand on her shoulder and lean in for pictures to prove how progressive his league is, as if one woman among hundreds of men is progress. Well, it is progress, but it isn't nearly enough.
There will be more women drafted today and tomorrow, and Sophie's confident at least one of them will play against her this season. She refuses to hope Elsa will keep her promise and make the jump from the Swedish Hockey League to the NAHL this year, but she has high expectations for Alexis Engelking.
The American is slated to be drafted high. Lenny Dernier, infamous for his rants on The National Sports Network, is already wringing his hands over her upcoming inclusion among hockey's best. Once, forgetting she was mic'd up, Engelking dropped an f-bomb on live television. Dernier accused her of being "a terrible role model for our Canadian children" as if every Canadian who has played the game is an angel.
Indianapolis files on stage to make the first selection of the draft, a long procession of middle to upper-aged white men in suits. The TVs behind the stage show Engelking sit up straighter in her seat as if she's anticipating her name being called. Her hair is chopped short, jagged angles as sharp as her cheekbones.
A different camera shows Chad Kensington, another American, slumped in his seat. His blond hair is parted to the side and slicked to stay there. His mother elbows him, and he makes a half-hearted attempt to sit up straight.
"Thank you, Orlando, for hosting us today," Indy's owner says. The crowd, predictably, cheers. When he thanks the Commissioner, the crowd boos, also predictable. Sophie doesn't remember the Commissioner facing constant heckling when she was younger, but he'd made himself no friends when the League ground to halt during the 2010-2011 season.
Indy's owner steps aside so his grandson, a cute kid with chubby cheeks and a Renegades ball cap on his head, can step up to the mic. They have to lower it for him, and the boy checks the cards in his hands before he looks over his shoulder. His grandfather smiles encouragingly. "Um, first overall, the Indianapolis Renegades select Chad Kensington."
Kensington stands up and shoots the nearest camera a pair of finger guns. His smile is as greasy as his hair. Sophie's seen enough tape to know he's talented, but he struts up to the stage as if he thinks the League should be grateful to have him. His suit is too big in the shoulders and too long in the leg as if he expects to grow into it. He's dwarfed by the men on stage; the only ones he's taller than are the owner's two grandkids. He taps the brim of the grandson's hat. The owner's granddaughter hides behind the man who Sophie assumes is her father.
Sophie discreetly checks her phone as she waits for all the hoopla to finish. Being at the draft always brings back memories of her own. She wasn't sure she'd be invited until a few months before and, even once she was there, it wasn't a guarantee a team would select her. In case being the first woman to try to play in the NAHL wasn't enough of a barrier, the Commissioner required teams to apply to be co-ed.
The Concord Condors were the only team able to draft her, and she sat in the stands as they made selection after selection, never calling her name. It took two hundred and twenty-four names until hers was called. Instead of being drafted first, or even first round, she was dead last.
She shakes the memory aside as Seattle comes on stage. Sophie quits feeling sorry for herself. Barrett Corderman is the one who deserves her pity as Seattle drafts him. She's making a name for herself in Concord, pulling her franchise from the depths of the League and turning them into a real contender. Seattle, on the other hand, is where players have their love of hockey sucked out of them.
Indianapolis makes another appearance for the fourth pick, gained in a trade last season. This time, the owner ushers his granddaughter on stage, and Sophie has a good idea of where this is headed. When the girl calls out Alexis Engelking's name, Sophie allows herself a smile. Engelking marks the fourth woman drafted into the League, and the highest selected of them all. There's a tightness around Engelking's eyes as she accepts her jersey as if she felt she deserved to go higher.
Concord drafts a defenseman with the first of their first-round picks. With their second, they select Tanner Bechtol. He's small like Kensington, and his hair falls into his eyes, only for him to shake it back out of his face. He looks overwhelmed by everyone on the stage, and it takes two tries for him to pull his jersey over his head.
It isn't exactly a promising start, and she expects a lot out of him. This is one of the picks which came from trading their captain, Matty, at the deadline last year. Bechtol stumbles off the stage. He would've tripped and face-planted in front of the cameras if Mr. Wilcox didn't steady him. Sophie keeps her expression tranquil in case anyone is watching her, but inside, she scowls. This is who they gave Matty up for?
Purchase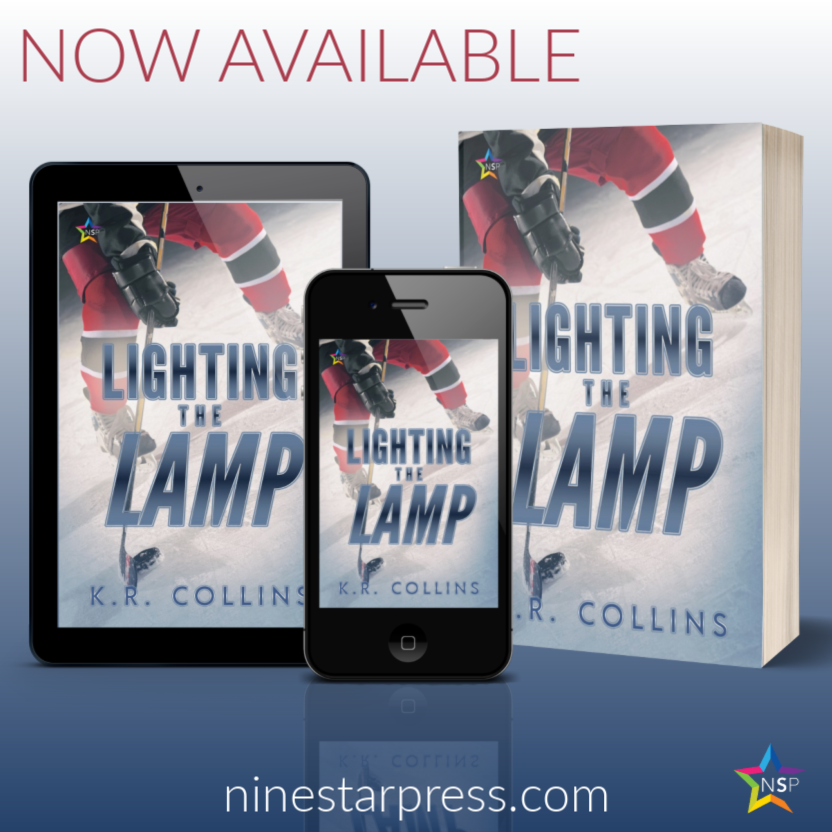 Meet the Author
K.R. Collins went to college in Pennsylvania where she learned to write and fell in love with hockey. When she isn't working or writing, she watches hockey games and claims it's for research. You can find K.R. on
Twitter
.
Giveaway
a Rafflecopter giveaway