Title: Ge-Mi: Part Two
Series: Ge-Mi, Book Two
Author: Mell Eight
Publisher: NineStar Press
Release Date: May 18, 2020
Heat Level: 2 - Fade to Black Sex
Pairing: Male/Male
Length: 28600
Genre: Paranormal, LGBTQIA+, MM romance, opposites attract, genetically modified humans, law enforcement, restaurant server, politics, men with pets, cat rescue
Synopsis
Taylor Reyes was born to privilege, but despite that has always been considered an abomination. He was the child that should never have been born and has spent his life trying to prove his worth to the world to no avail. As a red wolf Ge-Mi, humans look at his furry ears before his accomplishments, and no matter how hard he continues to work Taylor knows that will never change. Still, he has a grandfather that loves him and a pack of his own to lead. The life he created for himself is not a bad one, until one day a pair of adorable cat ears derails everything.
The thought of finding a mate had never crossed Taylor's mind, but suddenly he can't stop thinking about Nevada. There's no time for the distraction, though, as people are moving to unseat his grandfather from the city's throne. The fight has just begun, but ending it might mean Taylor will lose Nevada forever.
Excerpt
Taylor Reyes knew the exact moment he fell in love. He had been ranting and raving and basically making an ass of himself. Okay, if he really thought about it, Taylor knew a lot of people would say he did that regularly, but this time was different. A baby kitten had attacked him earlier in the day. The scabs on his face were itching, and his pride was smarting. The first chance he got, he tracked the cat stench that belonged to some waiter at a restaurant where his grandfather insisted he eat. The waiter's cat was the one that attacked him, and Taylor wasn't about to let the waiter go unpunished for the slight. The stench led down the sidewalk a few blocks to a nearby apartment building, and eventually, to the tiny studio apartment taking up a third of the top floor.
Getting inside was easy enough since his DNA had been automatically coded into every lock in the entire city. It was one of the perks of being the heir to the Reyes family, the family that had ruled the city of Kensey for generations. Kensey Reyes had taken power directly after the last Great War that destroyed all the large cities, leaving behind only smaller cities and towns without any federal government to oversee them. Those with the means took control all across the country, and Kensey held on to his city fiercely until his death ten years later. Taylor's great-grandfather and then eventually his grandfather had taken power, and Taylor was being groomed as the next heir.
Taylor enjoyed a life of privilege, but as a Ge-Mi, it wasn't an easy life to live. Long before the Great War, scientists had managed to combine the DNA of humans with that of animals. Today's history books contained speculation on why the scientists had done that, but it was generally believed the project began with good intentions. A cure for blindness by giving someone the sight ability of an eagle was the example Taylor remembered from his school textbook. Unfortunately, the military and some unsavory groups became involved, and they wanted super speed or super strength. Strange hybrid creatures were the eventual result, people like Taylor, who appeared human enough but also had wolf ears and a tail, or people with the power of a bear or the venom of a snake.
At first, Ge-Mis and humans had been able to live together peacefully, but fear over a Ge-Mi's extra abilities soon had the humans enacting discriminatory laws that forced even the most law-abiding Ge-Mis into desperate acts to keep their families fed.
After the Great War, that fear remained, coloring the minds of all the humans in the country. No one really remembered why the Great War started, but it had increased the level of fear regular people experienced. That fear now focused on the Ge-Mis. It wasn't easy to be called the heir of the city when almost no one trusted that his animal half would be safe in the position of the city's next leader.
Taylor's father was a red wolf Ge-Mi, and he had passed down the red-colored, pointed wolf ears that sat on top of Taylor's head as well as a long and fluffy red wolf's tail. The rest of him was pure Reyes stock—light-blond hair and blue eyes—but the Ge-Mi parts of him were too distinct to hide.
Which was totally unlike the object of Taylor's affection.
He had expected to find a human hoarder of cats, and he found a hoarder, but Nevada most definitely wasn't human. The moment those big gray eyes with the adorable little rounded ears peeking out of his white-and-black hair appeared over the edge of the loft high above Taylor, his heart was lost.
Nevada was no pushover. He wasn't some kitty cat Taylor could threaten into obedience or scare away by growling. No, Nevada was all snow leopard, fierce and protective of those he loved. Yet, at the same time, it was easy for him to hide his small ears under a handkerchief and to keep his tail wrapped around one leg. He had been hiding among the humans for his entire life.
Taylor had discovered Nevada's secret that fateful night, but where he might have ordinarily used it to blackmail Nevada, he was unable to do it. Nevada was just so… Taylor didn't have the words to describe the way Nevada made him feel, but Nevada owned his heart all the same.
Which was why Taylor was currently standing across the street from Restaurant Spice, hidden in a darkened alcove where he couldn't be seen, watching as Nevada deftly moved through the tables stuffed with customers.
These days, Nevada didn't have to hide what he was. He'd spent three years working at the café next door while hiding his Ge-Mi side, and the customers genuinely learned to like him. Recent events in a fight against a clan of hyena Ge-Mis trying to kill him forced Nevada to reveal his snow leopard half. The handkerchief was gone now, his ears visible to the world, and because Taylor had arranged to have special pants made for Nevada with an elastic ring in the back for his tail, his tail now showed. However, he still kept it curled around one leg, half out of habit and half to keep the kids from tugging on it when they saw it because the white fur with black rosettes was distinctive inside the busy restaurant.
Taylor pulled his phone from his pocket to double-check the time and sighed. It was only 7:45 p.m., which meant he had at least fifteen more minutes before Nevada got off shift. It would probably be longer, though, since Nevada was slowly starting to learn the ropes of the assistant manager position and didn't leave until he was certain the restaurant could run without him there.
Ree's riot of multicolored feathers, where her hair would have been had she been human, appeared in front of a table in the window, temporarily blocking Taylor's view. Ree was another Ge-Mi who had been outed in the hyena attack, but she, too, seemed to be thriving as another waiter at the restaurant.
Taylor let out a low growl and slumped harder against the wall behind him. Waiting for Nevada was so damned difficult, but the last time he went into the restaurant to get Nevada, he had been scolded for bothering the customers during dinner. A mad Nevada wasn't a fun Nevada.
Taylor's phone rang, startling him into jumping slightly in surprise. A glance at the caller ID told him Carley was calling.
"What?" Taylor growled into the phone. Carley knew Taylor was waiting to walk Nevada home. After closing was the only guaranteed time they had together each day, considering how busy both Taylor and Nevada were at their respective jobs.
"I might have found the link we need to finally find out who's engineering the coup," Carley explained, completely unperturbed by Taylor's aggressive tone. Carley had changed Taylor's diapers; he wasn't afraid of any of Taylor's moods.
"Who?" Taylor asked, all growl gone from his voice.
"Not sure yet," Carley replied, and Taylor could hear a cheeky shrug in Carley's voice. The man loved to yank Taylor's tail. "But I know where to start digging. Get your kitty cat home safe; then come over."
"Fine." Taylor let out a grumbling sigh to let Carley know how dissatisfied he was before hanging up.
Purchase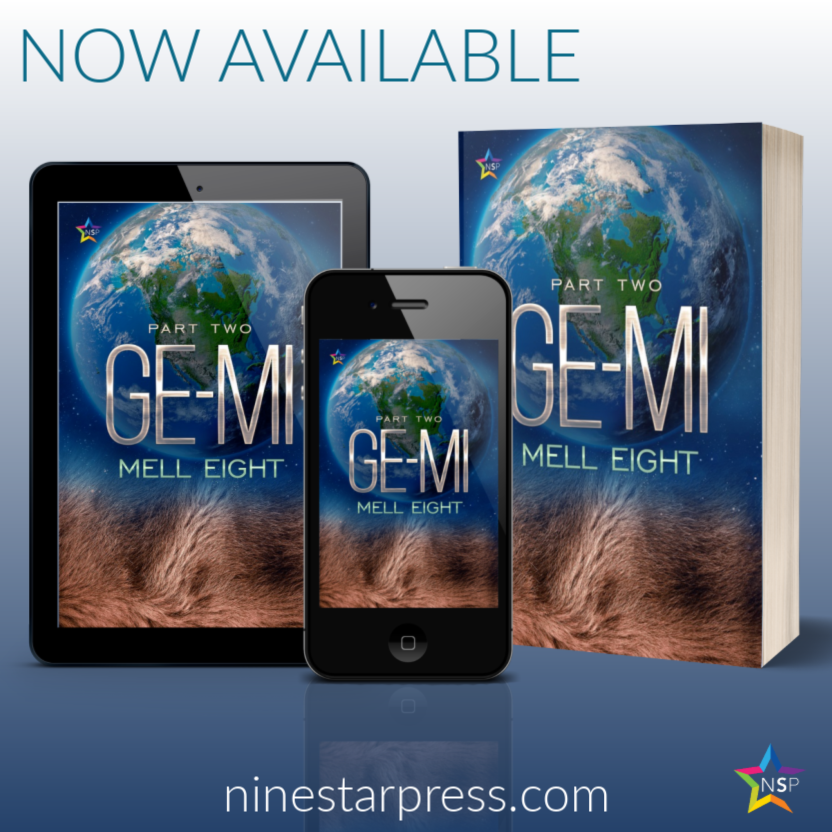 Meet the Author
When Mell Eight was in high school, she discovered dragons. Beautiful, wondrous creatures that took her on epic adventures both to faraway lands and on journeys of the heart. Mell wanted to create dragons of her own, so she put pen to paper. Mell Eight is now known for her own soaring dragons, as well as for other wonderful characters dancing across the pages of her books. While she mostly writes paranormal or fantasy stories, she has been seen exploring the real world once or twice.
Giveaway
a Rafflecopter giveaway