Title: Where Song Replaces Silence
Author: Layla Dorine
Publisher: NineStar Press
Release Date: April 22, 2019
Heat Level: 2 - Fade to Black Sex
Pairing: Male/Male
Length: 33300
Genre: Fantasy, LGBT, abduction, anger, Brownies, faeries, gay, hurt/comfort, mythical creatures, nymphs
Synopsis
Raze halts his midnight joy ride to give chase to twinkling lights that appear in the road before him and then lead him deep into a forest, where he falls into another world. There, magic is real, wishes are granted, and no one is considered odd or out of place.
Raze has never fit in anywhere in his own world and uses his angry attitude to keep others at bay and mask his anxieties and fears in this new place. A dangerous combination in Loas, where rudeness is frowned upon and foul language can land him in a dungeon.
Rurin, an inhabitant of Loas, tries to teach Raze about their world, its magic and its residents, but he faces Raze's stubborn resistance at every turn. Bitter about his past, pessimistic about his future, Raze sees what could be, but he struggles to accept it. In the meantime, his encounters with the Fae range from hostile sarcasm to potential danger. While he attempts to keep the promises he's made to Rurin and follow the rules laid out for him, Raze grows more and more curious about the place where he's landed. It's too bad he keeps making poor choices.
As the connection between them grows, Rurin works to keep Raze from being banished, but Raze may be cast out of the Loas before he has the opportunity to discover the true reason he was led there in the first place.
Review
Raze has never fit in and having grown up as an orphan shuffled around in the system has not helped. Even though his last home had been one he'd come to love, Raze left at the age of seventeen and never looked back. Since then he has had little in the way of companionship due to his anger and brusque manner he exhibited toward anyone who crossed his path. In fact, the only thing he loved was his car and when he nearly wrapped it around a tree after trying to swerve from a young woman standing on the deserted road he was driving, Raze's anger at the woman took over. As she taunted him to find her, he chased her into the wood only to fall down a rabbit hole into a prison cell and a world he never knew existed. Now in the world of faeries and numerous other creatures, Raze must learn to keep his anger in check or remain behind bars.
Layla Dorine offers up an interesting world inhabited by all manner of magical creatures in her latest release, Where Song Replaces Silence. When Raze is brought to Laos he is angry and uncooperative but it quickly becomes apparent that he will need to leave his foul mouth and fouler temper behind if he is to get out of the cage Rurin and his sister have imprisoned him in. Raze is made aware that he has met Rurin before, many times, and each time he has rebuffed the man. Now he is in Rurin's magical world—one where Raze's mean spirited temper won't be tolerated. It seems that Rurin has always been drawn to Raze—he doesn't exactly know why only that he wants to give the man one more chance to see the world Rurin lives in and choose to stay there with him.
While the world building aspect of this novel was interesting and quite detailed, I found myself really struggling with the heavy-handed way that Rurin and the others forced Raze to confront his anger and then tried to convince him to stay. Time after time in this story I felt that Raze got the short end of the deal, often being expected to take so much in stride when the entire world he was visiting was foreign and the threat of being returned to a cold, wet cell loomed over him constantly. In fact it was just this set up that made the attraction that suddenly developed and helped to convince Raze to stay seem so very contrived and forced. I didn't buy that Raze was suddenly okay with being essentially forced to be happy with his lot. I also had a difficult time believing that Rurin and Raze were going to eventually move from what appears to be a happy for now ending to falling deeply in love in the future.
Unfortunately the story rushed the relationship aspect in order to give so much time to establishing this underground world. Hence there was lot of "telling" us the story rather than letting it naturally evolve which led to the pace of the novel slowing considerably while the love aspect was rushed and unfinished. I think author Layla Dorine had a good idea which needed more page time ad a stronger plot line to really propel it forward into being a complete story.
Excerpt
Where Song Replaces Silence
Layla Dorine © 2019
All Rights Reserved
Heavy, the steady thud, thud, thud of the base rocked the back windows, and poured from the open driver's side where the scent of rain flowed freely, mist lightly splashing on Raze's face. "Four Rusted Horses" blared from a radio cranked so high the rain-covered glass vibrated with the force of the speakers' efforts.
Thud, thud, thud, "forbidden…" Raze growled along, more snarl than song. Thud, thud, thud, "heaven…" Every word committed to memory. Thud, thud, thud, "useless…" Despite the slickness of the road, he drove with just two fingers, his free hand tapping out a beat on the shifter. Thud, thud, thud, "hell…" Glowing red numbers on the dash flipped from 2:59 to 3:00, the witching hour, the night so dark the headlights struggled to pierce the dim and fog.
The old Charger's purr was a gospel choir of spark plugs and gears. His steel and chrome baby was the only thing in life Raze worked hard to care for. Some might even say he worshipped her power and speed, stroked her like a lover, and spent more than one night curled against the supple leather of her seats. He called her Rhea, after Saturn's second largest moon. As a kid, he'd had a collection of beautiful photos of the ringed planet.
For most, this might have been motivation to aim high, study astrophysics or astronomy, anything that might put them closer to the cosmos. Not Raze. If he was behind the wheel, space and time were irrelevant; the world shrank, melted, and faded away. The song reached its crescendo, and he drummed along, eyes half closed as he pressed harder on the gas, felt the wind snarl and tug at his hair—sharp, like cold teeth. Tensing, he belted out the final verse, barely keeping Rhea on the road.
Exhilaration warred with exhaustion, the miles piling up for hours. A quick glance at the dash showed the gas tank was drifting below a fourth, dangerous territory when he had no clue where to find the nearest station. Common sense said he should have stopped at the last place he saw, but the rebel flags in the window made him wary. He'd always had a tough time understanding how people could hate someone so absolutely over something as simple as the color of their skin.
His own varied, based on how much time he spent in the sun. Most days, his skin glowed like the beach at sunrise, the sand shimmering a glowing golden hue. In the summer, though, his skin grew three shades darker, and if he wasn't careful, a crop of freckles would appear splattered across his nose. He hated them as much as he hated the odd, three-toned hues of his hair, and how, no matter how many times he dyed the messy mane, he could never quite get his locks to turn out one color.
The long strands needed another treatment, the rich reds were like blood and rubies, or at least, that's how a multitude of people had described the color over the years. A few, being kind, had likened the shade to fall leaves or a sunset, but kindness hadn't been a common occurrence growing up. His so-called oddities had always made others uncomfortable. Funny, but ever since he'd learned the meaning of normal the idea had freaked the hell outta him. One of the many reasons he was still drifting.
Shit!
Slamming on the brakes, he jerked the wheel, sending Rhea spinning through the dancing green-gold figure appearing out of nowhere, swathed in a halo of lights. Somehow, despite the rows of waving trees, he got Rhea stopped without clipping one. His throat hurt, and his chest was pounding, lungs heaving as he sucked in air. Breathing and trying to relax the death grip on the wheel at the same time was a struggle. His fingers ached. Stiff and cramping, they refused to cooperate, no matter how hard he focused. Shaking, he collapsed against the wheel, the weight of his body sounding the horn, the echo a forlorn cry above the howling wind.
Shit shit shit shit shit
The only word he could formulate, shit, a mantra, running through his brain. There hadn't been a thud. He hadn't felt one, hadn't heard one, meaning he'd missed them, right?
He didn't want to look, but he knew he had to. Maybe they'd tripped, fallen, dived out of the way, rolled. They could be hurt, but not as bad as if he'd struck them with nearly two tons of metal. Swallowing, he told himself to man up, jerked his fingers free of their grip on the wheel, and sucked in a deep breath as he fumbled in the darkness for his phone. Three bars. Good, he could get them help if they needed it.
He fumbled with the door, got it open on the second try, and practically fell getting out, his body rebelling with every movement. For a moment, he stood in darkness, disoriented as he tried to figure out which direction he'd been coming from. When he spotted the twinkling green lights over the road, he blinked and stumble staggered toward the glowing apparition, watching the fragments of gold swirl and take shape, hovering, the form human, but not.
The fuck?
About fifty feet away, he could hear laughter, a mocking, teasing jangle of bell-like notes.
"You missed me, you missed me."
Huh?
Squinting, he struggled to assess the situation, even as the words continued.
"Now you gotta kiss me."
Oh, hell no. Either he was hallucinating, or he'd smacked his head on something. Either way, he was gonna wake up in a few minutes to darkness, a whining engine, and a pounding headache even the best painkillers wouldn't cure.
Scrubbing a hand over his face, he pressed his fingertips against his temples, counting to ten, but the laughter and singsong words continued.
"You think this is funny!" he roared, hands dropping to his sides, fingers curling into fists. He took a step forward and then another. "You could have gotten me killed; you could have fucked up my car; how fuckin' stupid do you have to be, playing games out here in the middle of nowhere! Do you get off on fucking with people, huh? I swear to god, if there is a fuckin' piston outta place in Rhea, you're gonna pay to have her fixed."
The laughter grew, even as he stalked the light. Only when he was within grasping range did it turn and flee toward the forest, glancing back every now and again to taunt him more.
"You can run, run, run, but when you're done, you will never catch me."
"Oh, you better believe Imma catch you, and when I do, Imma beat the sparkle offa you!" he screamed, crashing through the underbrush after it. It occurred to him, as he slipped and floundered, like as not, he was chasing swamp gas or some fucked-up idea of a joke involving holograms and projectors. They were probably sitting in a tree laughing at his stupidity. Didn't stop him from continuing to give chase.
Tripping, he landed facedown in prickly brambles.
"FUCK! FUCK! FUCK!"
Yowling, he carefully tried to detangle himself while the laughter continued to grate on his nerves.
"Clumsy, aren't we? My, my, my, that's a very fine mess you've gotten yourself into."
"Me? You're the one who led me into this crap."
"If you'd been faster, or smarter, perhaps you'd have used your wings, instead of stumbling around like a blind Alp-luachra searching for its next joint."
"Wish I was sitting somewhere warm and dry smokin' a joint right about now," he grumbled beneath his breath, even as the sparkling flake of glittery light continued to cackle, twinkling like a firefly with every high-pitched note.
"Ah, but your wishes matter little to me. I lack the ability to grant them, and even if I could, I wouldn't, until we've finished our game, though you are a poor, poor chaser. Perhaps you would be a better seeker. Shall I hide and see if you can find me?"
"Please don't; actually, no, wait; please do. Yeah, that's brilliant. You go hide, and I'll come find you…in a century or two."
Purchase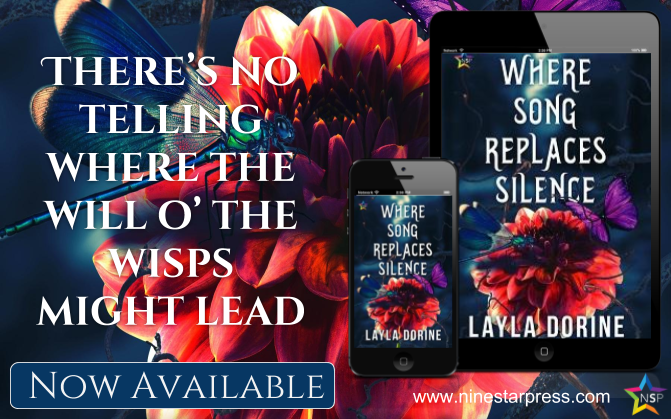 Meet the Author
Layla Dorine lives among the sprawling prairies of Midwestern America, in a house with more cats than people. She loves hiking, fishing, swimming, martial arts, camping out, photography, cooking, and dabbling with several artistic mediums. In addition, she loves to travel and visit museums, historic, and haunted places.
Layla got hooked on writing as a child, starting with poetry and then branching out, and she hasn't stopped writing since. Hard times, troubled times, the lives of her characters are never easy, but then what life is? The story is in the struggle, the journey, the triumphs and the falls. She writes about artists, musicians, loners, drifters, dreamers, hippies, bikers, truckers, hunters and all the other folks that she's met and fallen in love with over the years. Sometimes she writes urban romance and sometimes its aliens crash landing near a roadside bar. When she isn't writing, or wandering somewhere outdoors, she can often be found
Giveaway
a Rafflecopter giveaway