Title: In Over Our Heads
Series: Stories from the Shore 2
Author: CJane Elliott
Publisher: CJane Elliott
Release Date: 3/1/20 re-release
Heat Level: 3 - Some Sex
Pairing: Male/Male
Length: 66,364
Genre: Romance, second chance romance, vacation, contemporary, opposites attract
Synopsis
A second chance for romance on a scuba diving vacation plunges Anthony and Walter into deep waters—will they use love's lifeline or go under alone?
Party guy Anthony Vallen believes in happy endings—just not for himself. He hits Key West for a vacation with friends, ready for some fun in the sun. To his horror, the owner of the local scuba dive shop is Walter Elkins—former scientist, meticulous control freak, and the guy who broke Anthony's teenaged heart. Anthony throws up his shields with jokes and banter, but Walter draws him in by admiring him and listening to him like no one else has. Despite their painful past, Anthony's defenses soften and his reasons for shunning romance no longer hold much water. But whether Walter will come on board remains to be seen. Walter has never gotten over brilliant, fun-loving Anthony, but he's compelled to keep Anthony safe—not just from the ocean depths but from himself.
Soon Anthony and Walter are in over their heads, their love as unstoppable as the hurricane they find themselves in the middle of. To prevent their fears from pulling them under, Anthony needs to get serious—about his worth and his heart's true desires, and Walter needs to trust—in himself, in fate, and in Anthony.
2nd in Series but can be read as a stand-alone.
Second Edition, revised and expanded.
Excerpt
Miles led us onto the boat and murmured to me as we were getting settled, "You guys are getting the special treatment. Walter doesn't usually run the cruise excursions anymore. I'm kind of surprised he's doing it."
"Miles." Walter frowned at him, jerking his head in a come here gesture.
"Oops. Duty calls." Miles gave me a wink and went to help Walter with the jibs or sails or lines or whatever.
I tried to relax and get into vacation mode. What had I told Jonathan mere hours before? I wasn't going to give Walter Elkins one more thought! It was hard to keep that vow, though, with Walter right there, his hunky body on display, muscles bunching and lengthening as he knelt and reached and got things ready with his usual fierce concentration. Though I knew fuck all about sailing, I was willing to bet that Walter's preparations were being done rigorously, completely, and perfectly. Even Miles had grown serious and attentive, responding to his terse directions as though it was a military operation.
Meanwhile I became aware of something happening in my body. It was the oddest thing. I'm usually a bundle of nerves and on the manic end of the energy scale. But as I watched Walter, my muscles began to loosen, like they were letting down their guard. A memory darted in of Walter, at the end of high school chemistry class, restoring everything to order in his methodical way, me chattering nonstop as I watched him, and all being right with the world. It had felt safe being around Walter. He'd taken care of everything, slowly and patiently. I could be my fluttery self—a butterfly flitting all over—because I knew he would be there when I needed to land.
Suddenly Walter lifted his eyes and gazed right at me. To my horror, I found myself smiling fondly at him, still in the glow of that long-ago time. I was probably making stupid goo-goo eyes too. He went red and dropped something on the deck with a clang.
"Walter! Watch what you're doing," scolded Miles with a mock scowl. He laughed, no doubt pleased that the perfect Walter had been shown to be human.
"Sorry," Walter muttered, reapplying himself to his task.
I sat still, shaken by how easily I'd slipped into rosy Walter memories. What on earth was wrong with me? Safe? Walter was the guy who'd left me not once but twice, and so callously that I'd been protecting myself from love ever since. Screw him!
I tore my gaze away and caught Sophia watching me with a small smile. She leaned forward and whispered, "Anytime you want to tell me what that's all about, feel free."
"I have no idea what you're talking about, doll."
"Okay. If that's how you want to play it." She leaned back and lifted her face to the sun. "Ah. It's so awesome to be back in the sunshine."
Marco lounged in his seat, looking fucking stupendous, his arm around Jonathan, who rested his head on Marco's shoulder. I must have been rattled by Walter's reappearance, because my walls suddenly cracked. Pain lanced through me, and I stopped kidding myself that I wasn't pea green with envy. I so was.
I froze for a moment, stunned at myself. Could this be true? Could Anthony the Player be merely the facade, while underneath I wanted what Jonny had? Not that I wanted Marco for myself, but was I pining for a man to hold me like that and let me rest my head on his shoulder? All signs pointed to yes. How embarrassing! And how completely unlikely.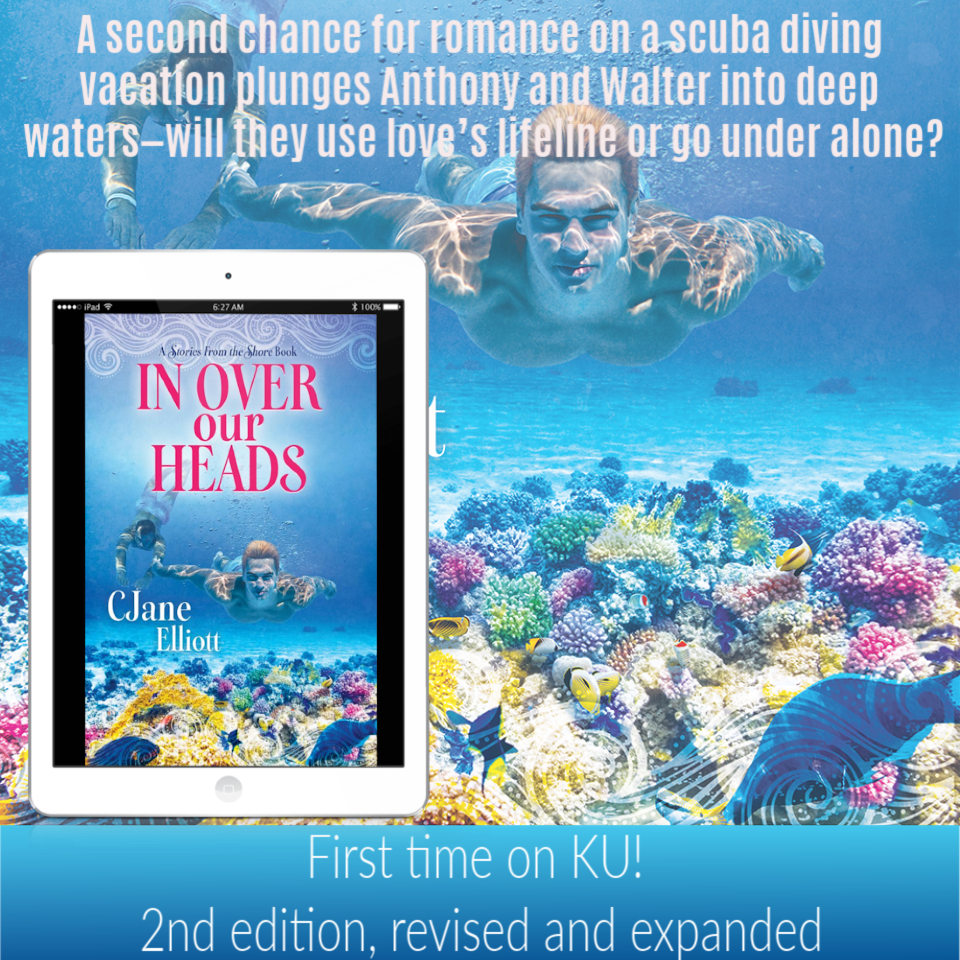 Meet the Author
After years of hearing characters chatting away in her head, award-winning author CJane Elliott finally decided to put them on paper and hasn't looked back since. A psychotherapist by training, CJane writes sexy, passionate LGBTQ romances that explore the human psyche. CJane has traveled all over North America for work and her characters are travelers, too, traveling down into their own depths to find what they need to get to the happy ending.
CJane is bisexual and an ardent supporter of LGBTQ equality. In her spare time, CJane can be found dancing, listening to music, or watching old movies. Her family supports her writing habit by staying out of the way when they see her hunched over, staring intensely at her laptop.
Giveaway
a Rafflecopter giveaway